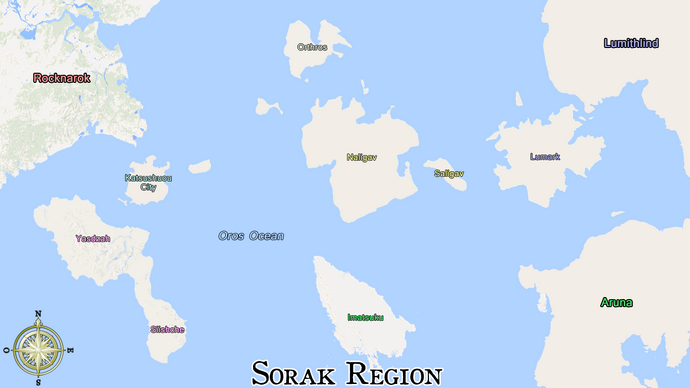 The Sorak Region is where Katsushuou City - The city where The Nautilus Project takes place; is located.
The Sorak Region is made up of multiple individual islands with independent cities of their own. There is no capital for this region as different islands are controlled by different factions, which have different opinions with each other.
Three mainland continents Rocknarok, Lumithlind, and Aruna are partially part of this region.
Rocknarok
Rocknarok is the neighboring continent in alliance with Katsushuou City. It is referred to as the mainland in The Nautilus Project.
Katsushuou City
Katsushuou City is the most technologically-advanced city in comparison to all other cities in the region. It is isolated from the other major islands and has two owned neighboring islands.
See Katsushuou City for more information.
Yasdzah & Siishche
Yasdzah is noted to be a Military-based city. Alternatively it is also known as "The land of warriors".
Naligav & Saligav
Naligav is the city with the highest magic concentration in comparison to all other cities in the region.
Lumithlind & Lumark
Aruna & Imatsuku
Orthros
Orthros is an unknown island north of Naligav.
It is said that those whom once attempted to enter Orthros were never once seen again, thus all information regarding Orthros currently remains unknown.
Trivia
The Sorak Region is similar to the Sevii Islands from Pokemon Fire Red/Leaf Green, but on a much larger scale.
The Sorak Region is actually made out of random islands from South East Asia put together.